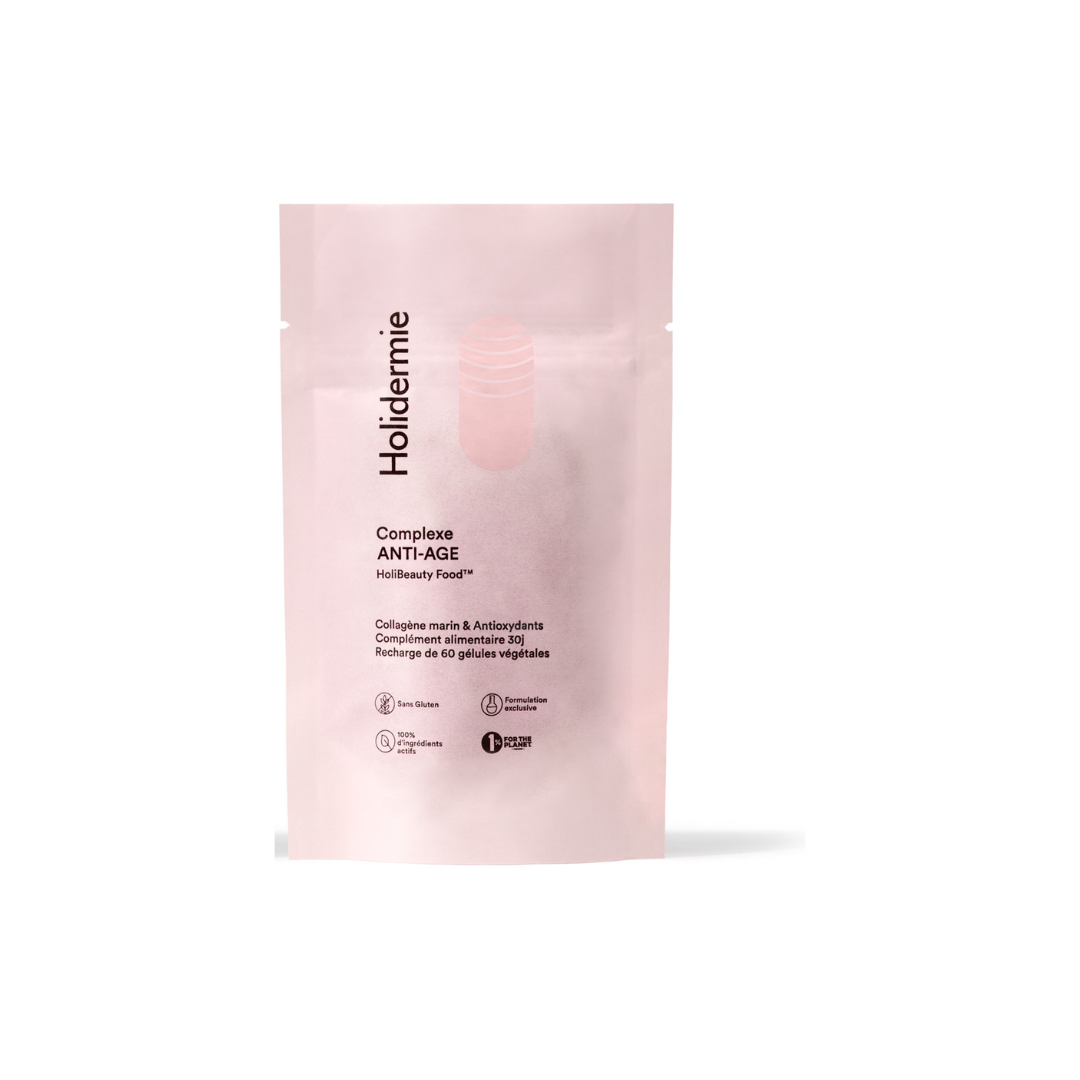 ANTI-AGEING food supplement - 1 month
RADIANCE, BALANCE & FIRST WRINKLES
" Anti-oxidation booster".
Is your skin dull and are the first signs of aging appearing?
The Anti-ageing food supplement is a food supplement enriched with Grape + Landes Pine + Collagen, formulated to prevent skin ageing: it fights against free radicals and oxidative stress while preserving the firmness of the supporting tissues.
Prevents the formation of wrinkles
Preserves the radiance of the complexion
Balances the skin microbiota
For an optimal Inside & Out action, complete your ritual with :
Global anti-ageing serum and/or radiance mask
Eco-responsibility
Available in pack of 3 refills x 60 capsules = 1 month
Directions for use: 2 capsules per day, ideally in the morning, at breakfast time.
Recommended duration of use: minimum 30 days and ideally 3 months for visible effects
Do not exceed the recommended daily dose. Food supplements should not be used as a substitute for a varied and balanced diet and a healthy lifestyle. Keep out of reach of young children. Food supplement based on plant preparations, vitamins, minerals, lactic ferments and substances.
Precautions for use : Not recommended for children and adolescents. Pregnant or breast-feeding women should consult a health professional before taking any supplements. It is not recommended to take it outside of mealtimes.
Ingredients : Hydrolyzed collagen (fish); capsule shell: hydroxypropylmethylcellulose; grape seed extract (Vitis vinifera L. ) titrated to 95% OPC*; zinc citrate; D-alpha tocopheryl acetate (vitamin E); dry extract of Landes pine bark (Pinus pinaster) with 95% OPC*; lactic ferments : Bidobacterium infantis, Lactobacillus casei, Lactococcus lactis subsp lactis, Lactobacillus acidophilus, Bidobacterium bidum, Bidobacterium longum, Lactobacillus plantarum, Lactobacillus rhamnosus; reduced glutathione; copper gluconate.
*OPC: oligo-proanthocyanidins