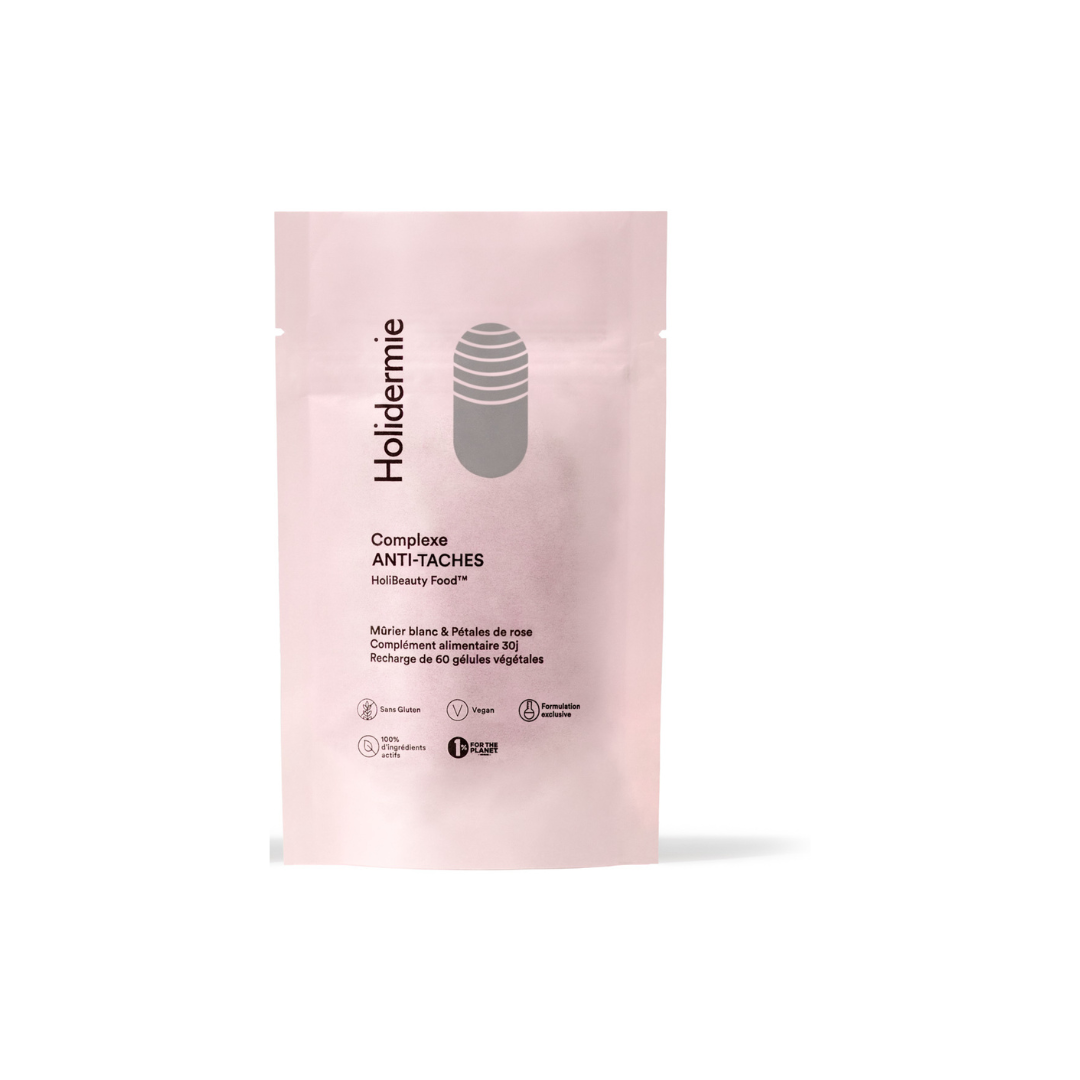 ANTI-SPOT food supplement - 1 month
BRIGHTENS, ILUMINATES & ANTI-SPOT
" Radiance booster."
Your complexion is uneven, blurred and you have pigmentation spots installed?
The Anti-Spot Food Supplement is a food supplement enriched with Rose Petal + White Mulberry + Green Tea powder, formulated to effectively fight against pigmentation spots and preserve the skin's overall radiance:
Brightens and reduces spots
Brightens and evens out skin tone
Protects against oxidative stress
Balances the skin microbiota
For an optimal Inside & Out action, complete your ritual with :
Collagen & Hyaluronic Acid food supplement
Eco-responsibility
Available in pack of 3 refills x 60 capsules
Directions for use : 2 capsules per day, ideally in the morning, at breakfast time.
Recommended duration of use: minimum 30 days and ideally 3 months for visible effects
Do not exceed the recommended daily dose. Food supplements should not be used as a substitute for a varied and balanced diet and a healthy lifestyle. Keep out of reach of young children. Food supplement based on plant preparations, vitamins, minerals, lactic ferments and substances.
Precautions for use : Not recommended for children, adolescents, pregnant and breast-feeding women. Not recommended for use outside of mealtimes. Not recommended for people on anti-diabetic medication. Contains caffeine, not recommended for children and pregnant women (caffeine content 3,57mg/2 capsules).
Capsule shell: hydroxypropylmethylcellulose; rose petal powder (Rosa centifolia L.); dry extract of green tea leaf (Camellia sinensis L.); L-ascorbic acid (vitamin C); grape seed extract (Vitis vinifera L.) with 95% OPC*; dry extract of white mulberry fruit (Morus alba L. ); zinc citrate; D-alpha tocopheryl acetate (vitamin E); dry extract of Landes pine bark (Pinus pinaster) with 95% OPC*; lactic ferments : Bifidobacterium infantis, Lactobacillus casei, Lactococcus lactis subsp lactis, Lactobacillus acidophilus, Bifidobacterium bidum, Bifidobacterium longum, Lactobacillus plantarum, Lactobacillus rhamnosus; copper gluconate.
*OPC: oligo-proanthocyanidins