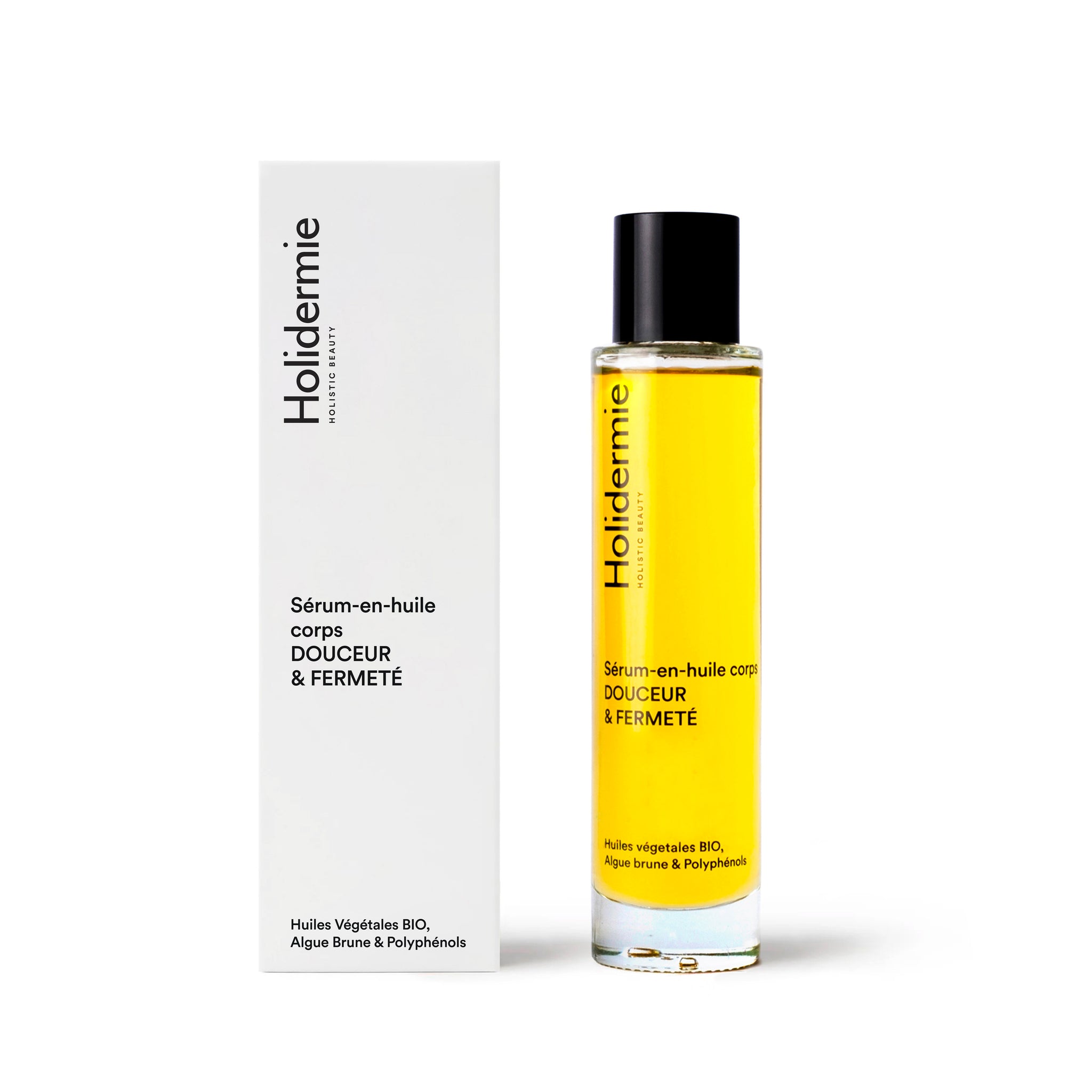 Serum-in-oil body
SOFTNESS & FIRMNESS
Vegan
Cruelty free
100% natural origin
Containing a cocktail of 5 organic vegetable oils with restructuring properties that are high in protective essential fatty acids, this unique package combines the power of a serum with the sensory nature of an oil.
For super-nourishing everyday action, this Serum-in-Oil improves the skin's overall quality while increasing its firmness and elasticity.
After application, skin is supple, satiny and subtly fragrant.
RESULTS :
• The skin is nourished and protected from external wear and tear
• Skin is firmer and looks younger
• Your skin is prepared to receive a deep tissue massage
Advice for use
Squeeze the serum into the palm of your hand, shaking the bottle gently, and apply daily to the entire body.

The ideal Inside & Out Synergy
Massage tool / Skincare tool: Gua Sha body made of rose quartz
Food supplement / Skincare food: PRO-FERMETE complex, ideally for at least 3 months.
Recommended booth treatments
https://app.kiute.com/holidermie/service/5840442591412224
https://app.kiute.com/holidermie/service/5710790682083328

Holidermie reinforces its commitment to the preservation of the planet by choosing a glass bottle, recyclable and infinitely reusable!
INGREDIENTS : helianthus annuus (sunflower) seed oil, olea europaea (olive) fruit oil, argania spinosa kernel oil, borago officinalis seed oil, vitis vinifera (grape) seed oil, parfum (fragrance), silica, caprylic/capric triglyceride, glycine soja (soybean) oil, tocopherol, alaria esculenta extract, limonene, geraniol, linalool, citral.
BORAGE OIL
Borage oil is known for its exceptional richness in gamma-linolenic acids (omega 6), precursors of membrane phospholipids, which makes it an oil with strong regenerating power, ideal for dry and mature skin. It is the anti-aging oil par excellence.

GRAPE SEED OIL
Grape seed oil is recommended for massages thanks to its emollient properties. Rich in tocopherols and phenolic compounds, it helps fight against the production of free radicals and the loss of subcutaneous density. It contains powerful OPCs (ProCyanidolic Oligomers), known for their antioxidant properties: their strong affinity with skin collagen allows the connective tissue to preserve its integrity, and thus to maintain the skin's firmness.

BROWN SEAWEED EXTRACT
Brown Algae has anti-aging and firming properties. By inhibiting the enzymes that break down collagen and elastin, it helps maintain the integrity of the supporting connective tissue.

ARGAN OIL
Traditionally used by the Berber women living in a dry, hot and windy environment, the vegetable oil of Argan is ideal to prevent the cutaneous drying. Rich in phenolic compounds and vitamin E, this oil is naturally antioxidant and protects tissues from degeneration.

OLIVE OIL
Olive oil is very rich in oleic acids (omega 9), natural compounds of sebum. It is essential to the production of the hydrolipidic film which protects the skin from drying and external aggressions, while maintaining its flexibility. This oil also contains squalenes, major constituents of the skin, with emollient and antioxidant properties.

SUNFLOWER OIL
Sunflower oil is rich in gamma-linolenic acid (omega 6), the main component of ceramides. They are responsible for the good cohesion of the epidermal cells, thus making it possible to fight against the drying of the skin and to protect it against the external aggressions. Regenerating and relipidante, this oil makes the skin flexible and elastic.
Core assets
Grapeseed oil helps combat the production of free radicals and loss of subcutaneous density.
Brown Algae extract stimulates the production of collagen and elastin while preventing their degradation.
Borage oil, known for its strong regenerating power, is ideal for dry and mature skin: it is the ultimate anti-aging oil.
the skin is nourished.
the skin is toned.
the skin is firmer.
the product improves skin elasticity.