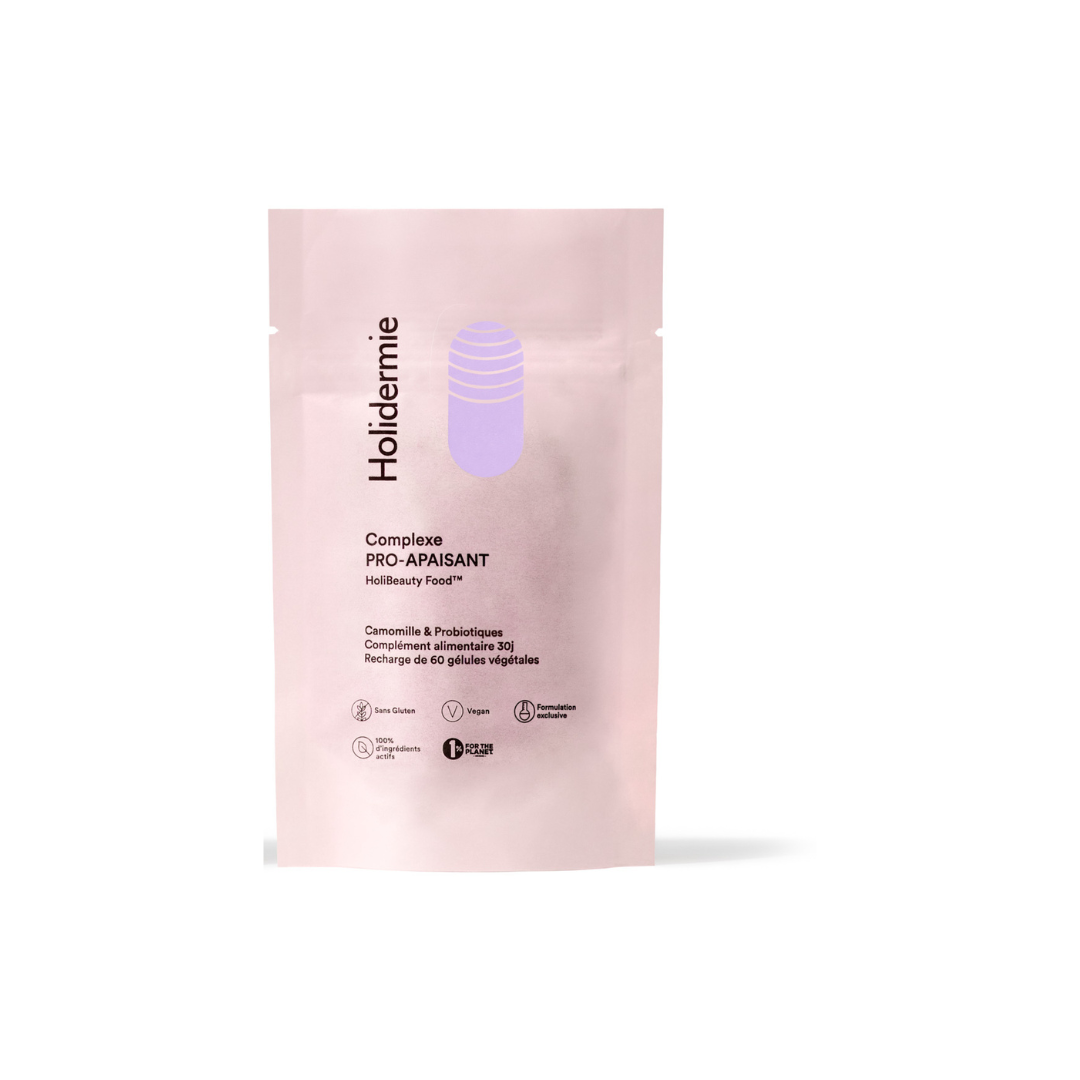 Food supplement for sensitive skin - 1 month
CALM, DEFLAMES & STRENGTHENS
" Balance booster".
Is your skin reactive, prone to redness and/or hypersensitive?
The Sensitive Skin Food Supplement is a food supplement enriched with Chamomile + Turmeric + Probiotics, formulated to provide overall (re)comfort to delicate and/or fragile skin, by enabling it to better resist inflammatory factors.
Reduces redness
Reduces hypersensitivity
Calms inflammation
Promotes healing
For an optimal Inside & Out action, complete your ritual with :
Collagen & Hyaluronic Acid food supplement
Cryo-Freshening Stick or Intense Comfort Balm
Eco-responsibility
Available in pack of 3 refills x 60 capsules
Directions for use : 2 capsules per day, ideally in the morning, at breakfast time.
Recommended duration of use: Minimum 30 days, and ideally 3 months for visible effects.
Do not exceed the recommended daily dose. Food supplements should not be used as a substitute for a varied and balanced diet and a healthy lifestyle. Keep out of reach of young children. Food supplement based on plant preparations, vitamins, minerals, lactic ferments and substances.
Precautions for use : Not recommended for people on anticoagulants, children, adolescents, pregnant and breastfeeding women. Contains caffeine (15mg). It is not recommended to take it outside of mealtime.
Ingredients : Green tea leaf extract (Camellia sinensis) with 40% polyphenols, L-arginine, vitamin C, envelope: vegetarian capsule, turmeric rhizome extract (Curcuma longa) with 95% curcuminoids, bromelain powder (pineapple extract), chamomile flower extract (Matricaria recutita) with 2% apigenin, zinc citrate, L-Gasseri, natural vitamin E with 45%.