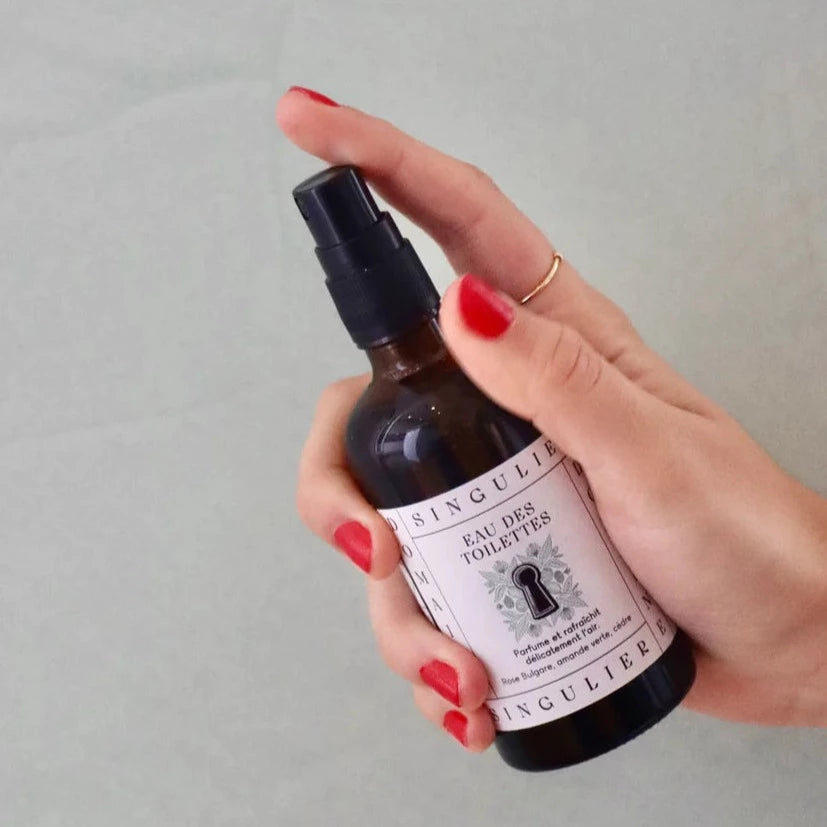 "Eau des toilettes" WC Spray smell control
DOMAINE SINGULIER
The mission of Domaine Singulier
: to spread beauty that makes feel good for an art of de vivre toilets and bathrooms. The
Eau des Toilettes
delicately perfumes the air while neutralizing unpleasant odors. Its totally addictive natural fragrance made by a talentuous perfumer is an exclusive blend of floral and plant extracts including
green almond, Bulgarian rose
and
cedar
in an alcohol base with naturally purifying properties. All unpleasant odors are neutralized. Your toilets and bathrooms smell incredibly good, immediately and lastingly. Each passage becomes a unique pleasure experience. For oneself and for others. To offer yourself and to offer for a both unexpected, beautiful and useful gift.
Directions for use
: Directions: Spray into the air at any time of the day. The fragrance of Eau des Toilettes Domaine Singulier provides an immediate and unexpected feeling of enveloping and comforting softness and freshness. Unpleasant odors are neutralized for your pleasure and the pleasure of the next visitor.
Precautions for use:
▸Contains Linalool, can provoke an allergic reaction. ▸Keep out of reach of young children like all products containing alcohol and glass. ▸Like all products containing alcohol, this product is flammable.
Its 99.9% natural formula contains: - denatured organic wheat alcohol labeled Ecocert, grown and manufactured in France - an exclusive perfume concentrate, based on natural ingredients of very high purity and quality, the selection and origin are controlled. Non-toxic formula for aquatic fauna and flora.

Weight: 135g
Volume: 100ml
Height: 13.8 cm - Diameter: 4.5 cm
Amber glass bottle