Cryo-Lift protocol
Holidermie has created an exclusive protocol inspired by cryotherapy, or cold therapy. Its use has an immediate effect on tissues: engorged areas are deflated, redness is reduced, pores are tightened and skin is firmed.
Cryo-Lift Protocol
Which zones?
Face, eye contour, neck
When?
Ritual to be repeated, ideally in the morning to deflate areas 1 to 2 times a week to optimize long-term benefits.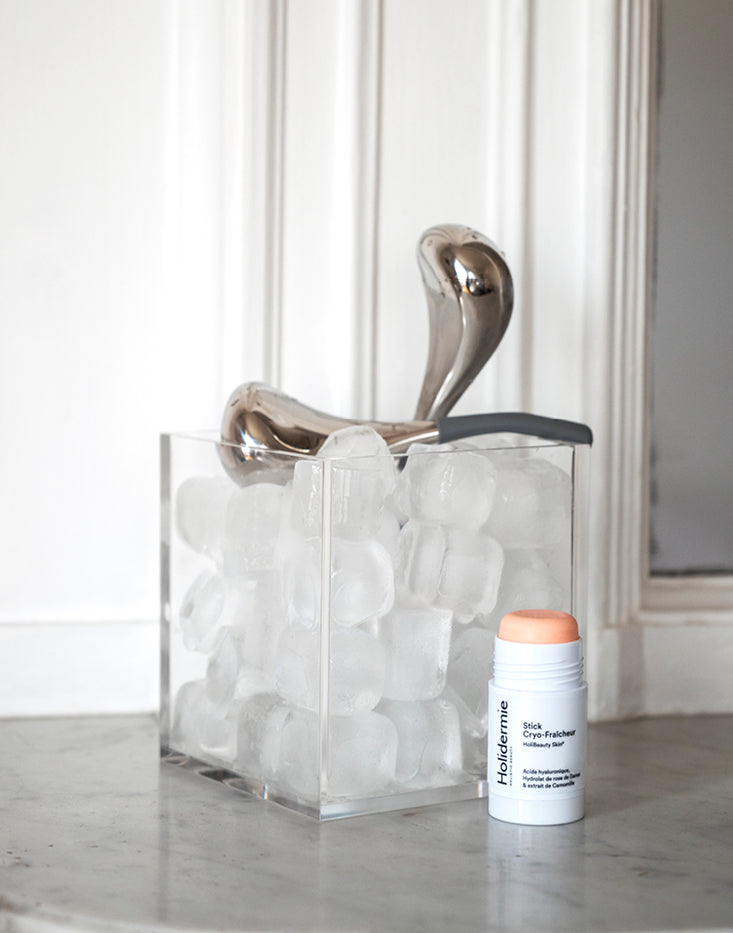 An exclusive 2-in-1 protocol:
Care and massage tool
Inspired by cryotherapy, Holidermie harnesses the exceptional benefits of cold through these 2 products: the Cryo-Freshness Stick and the Cryo-Lifting Globes. Under the effects of cold, blood circulation and oxygen supply are stimulated, resulting in lifted features and a more radiant skin appearance. A true concentration of expertise, this cryotherapy duo (Cryo-Freshness Stick and Cryo-Lifting Globes) comes with an exclusive self-massage protocol developed by our Facialist expert, to guide you and fully benefit from the virtues of this new beauty ritual. The Cryo-Lifting Globes have been specifically designed to maintain an optimal temperature throughout the session.
The benefits of refreshing self-massage

Promotes drainage and tightens pores

Firms the face and tightens tissues

Soothes the epidermis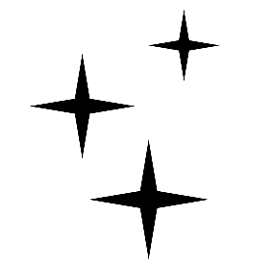 Illuminates the complexion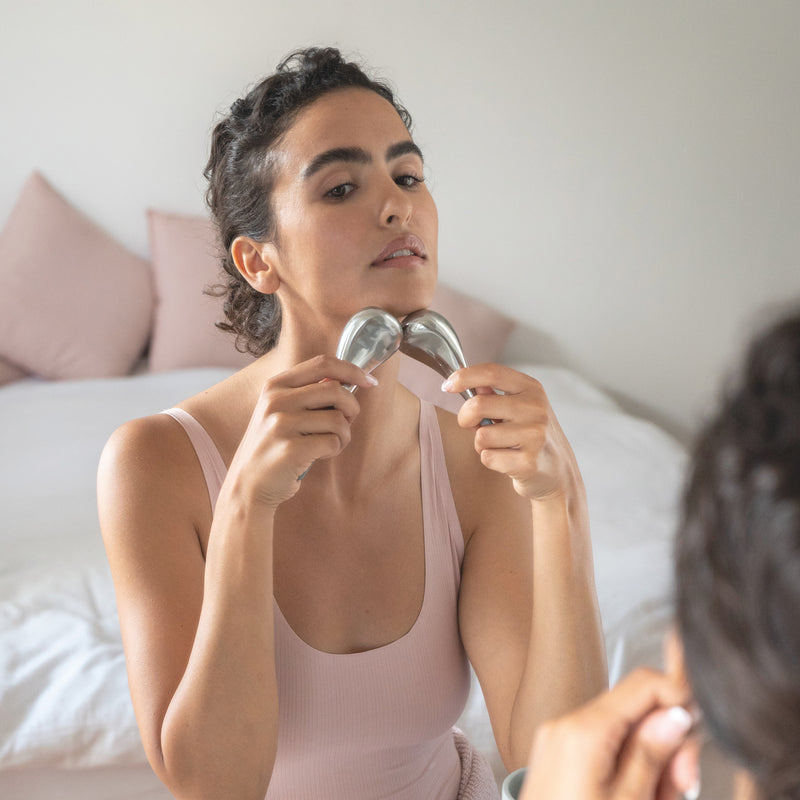 1. For a firming & draining effect
Slide the back of the Globes from the inside to the outside of the face, slowly: from the chin up to the ears; then from the middle of the forehead to the temples. Finish by moving down to under the collarbones to bring the lymph down.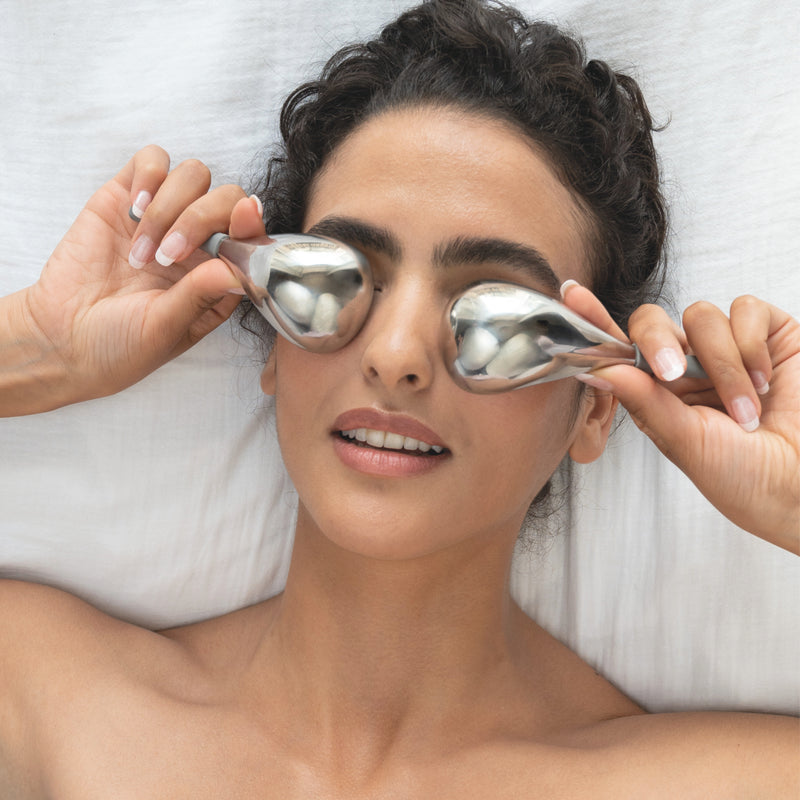 2. For a decongestant effect
Place the hollow part of the Globes on your closed eyes for a few minutes to relieve eye tension. This gesture will awaken the eyes, deflate puffiness and boost blood circulation to reduce dark circles.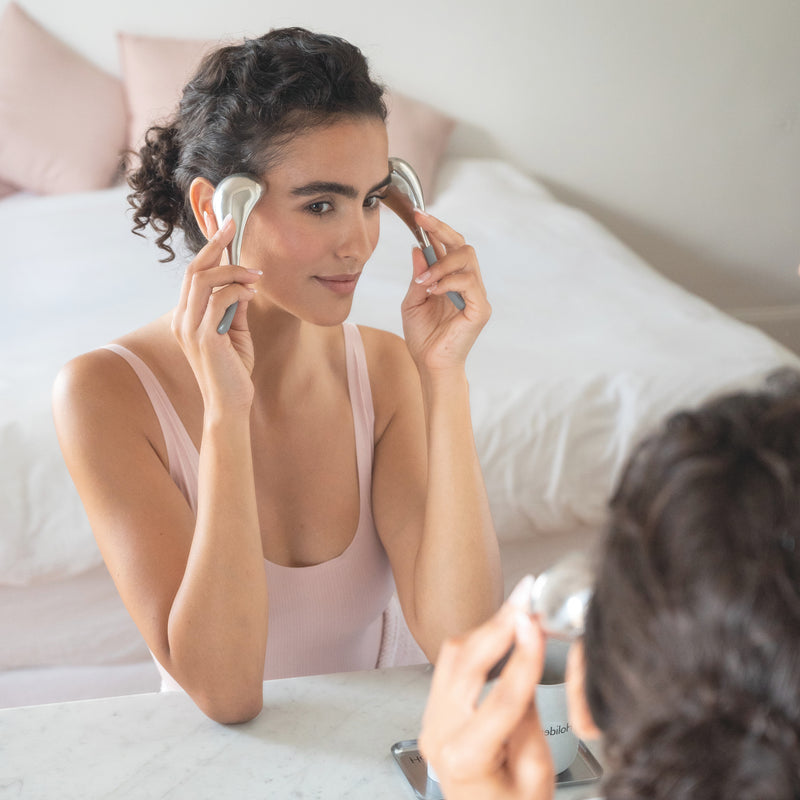 3. To ease tension
If you have a headache, you can alleviate the pain by massaging the temples for around 20 seconds, using circular movements. The cold combined with slow movements will have an immediate soothing effect.
« Ice your skin, Lift & Glow »