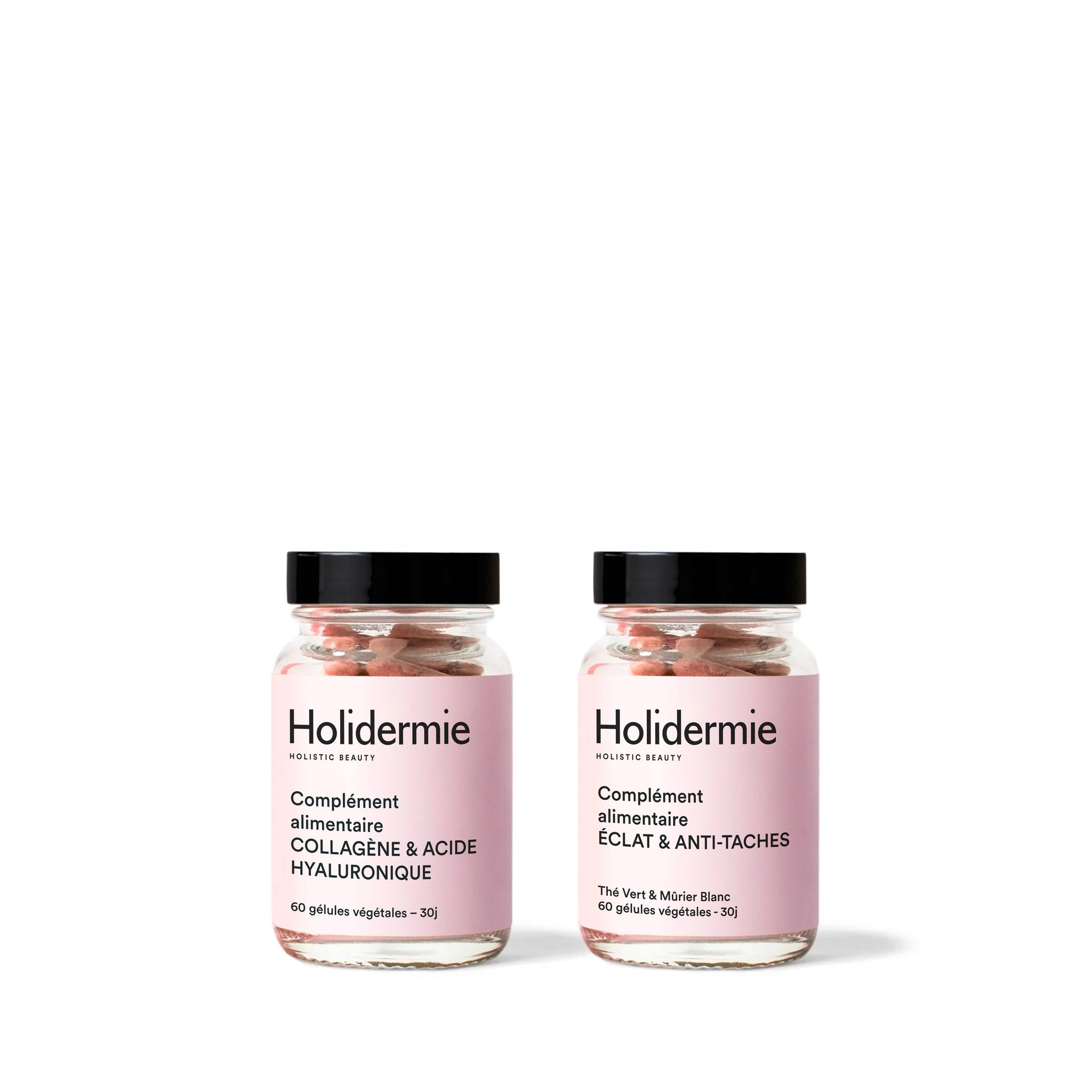 Duo RADIANCE & FIRMNESS
ANTI-SPOTS & FIRMNESS
"Radiance & Firmness"
Double action nutritional synergy Complex + Booster:
1/ helps fight against existing pigment spots and prevent their appearance
2/ helps preserve the firmness, elasticity, and hydration of the skin
Rose petals + White mulberry + Green tea + Marine collagen + Hyaluronic acid - Lightens and reduces dark spots- Helps reduce the appearance of wrinkles- Brightens and unifies the complexion- Fight against cellular oxidation
More information on the ANTI-SPOT MARKS Complex
More information on COLLAGEN & HA Booster
Instructions for use: 2 capsules per day of the Complex and 2 capsules per day of the Booster, ideally in the morning, at breakfast time.
Recommended duration of use: Minimum 30 days and ideally 3 months for visible effects.
Do not exceed the recommended daily dose. Food supplements cannot be used as a substitute for a varied and balanced diet and a healthy lifestyle.Keep out of reach of young children. Food supplement based on herbal preparations, vitamins, minerals, lactic ferments, and substances.
Precautions for use: Not recommended for children, adolescents, pregnant and breast feeding women. Taking it outside of meals is not recommended. Use in people on antidiabetic treatments is not recommended. The Complex contains caffeine, not recommended for children and pregnant women (caffeine content 3.57mg/2 capsules).
INGREDIENTS: Capsule shell: hydroxypropyl methyl cellulose; rose petal powder (Rosa centifolia L.); green tea leaf dry extract (Camellia sinensis L.); L-ascorbic acid (vitamin C); Grape seed extract(Vitis vinifera L.) 95% OPC *; white mulberry fruit extract (Morus alba L.);zinc citrate; D-alpha-tocopheryl acetate (vitamin E); Landes pine bark extract,(Pinus pinaster) 95% OPC *; lactic ferments: Bidobacterium infantis,Lactobacillus casei, Lactococcus lactis subsp lactis, Lactobacillus acidophilus, Bidobacterium bidum, Bidobacterium longum, Lactobacillus plantarum, Lactobacillus rhamnosus; copper gluconate.
*OPC : oligomeric proanthocyanidins
OMEGA-3 Booster
INGREDIENTS: Sodium hyaluronate; hydrolyzed collagen (fish); capsule shell: hydroxypropyl methylcellulose.
Core assets
White Mulberry
Allows to reduce the dark spots already installed and to prevent their appearances. It provides a luminous, fresh and even complexion.
Rose petals
Acts on pigment spots and brightens the complexion, allowing you to regain porcelain skin.
Green tea
Rich in antioxidant polyphenols, helps protect cells against oxidative stress.
Marine collagen
Essential component of subcutaneous support tissue. Without this supporting fabric, the skin loses its firmness and elasticity.
Hyaluronic acid
Its molecules are able to retain up to 100 times their weight in water. The skin thus retains all its density and firmness.