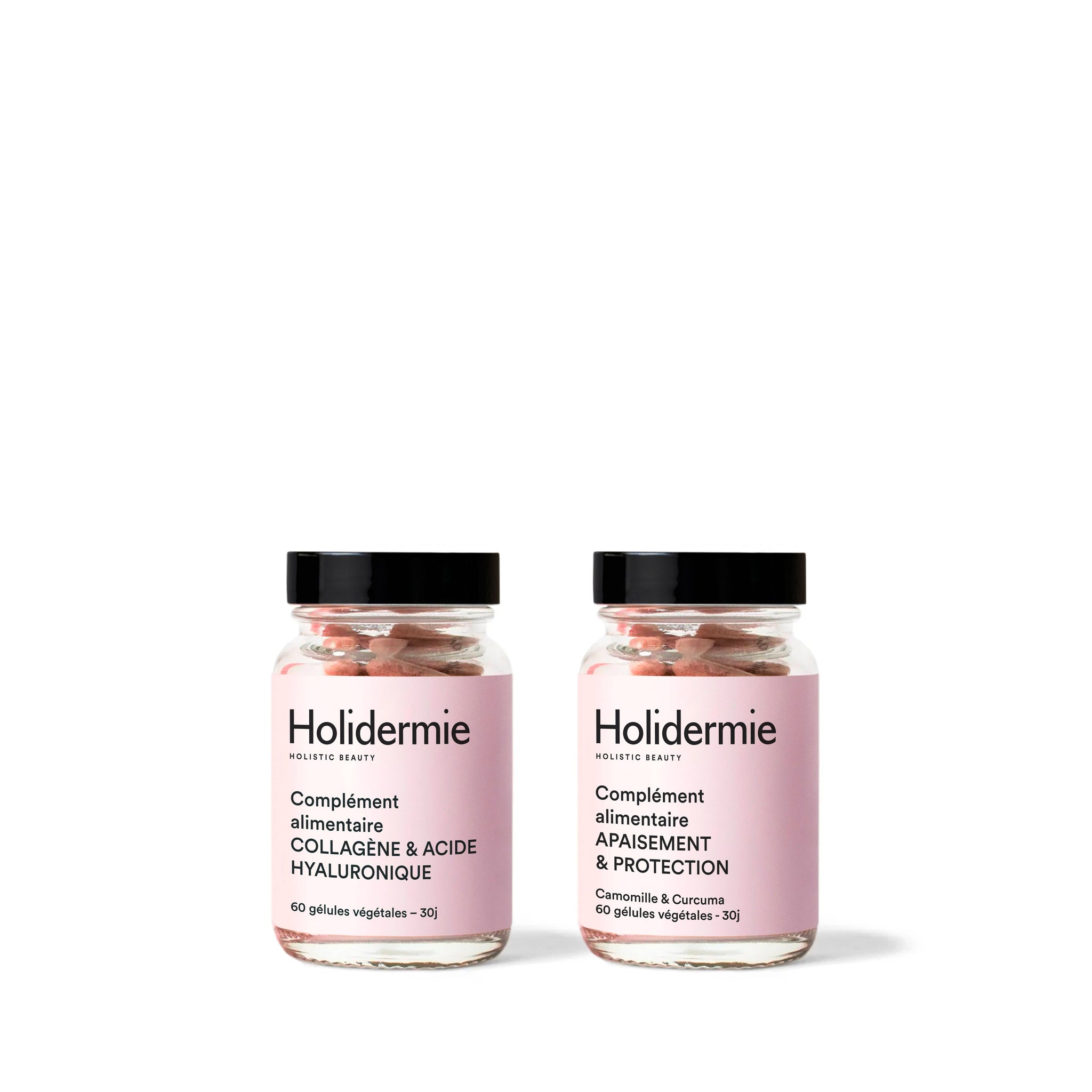 Duo BALANCE & FIRMNESS
SENSITIVE SKIN & FIRMNESS
"Balance & Firmness"
Double action nutritional synergy Complex + Booster:
1/ Gives an overall (re)comfort to delicate and/or weakened skin, allowing it to better resist inflammatory factors.
2/ Helps preserve the firmness, elasticity, and hydration of the skin
Turmeric + Chamomile + Probiotics + Marine Collagen + Hyaluronic Acid
- Reduces redness
- Promotes healing
- Reduces hypersensitivity & inflammation
- Prevents wrinkles
- Maintains firmness and elasticity of the skin
More information on the PRO-SOOTHING Complex
More information on COLLAGEN & HA Booster
Instructions for use:
2 capsules per day of the Complex and 2 capsules per day of the Booster, ideally in the morning, at breakfast time.
Recommended duration of use:
Minimum 30 days and ideally 3 months for visible effects. Do not exceed the recommended daily dose. Food supplements cannot be used as a substitute for a varied and balanced diet and a healthy lifestyle. Keep out of reach of young children. Food supplement based on plant preparations, vitamins, minerals, and lactic ferments and substances.
Precautions for use:
Use is not recommended for people on anticoagulants as well as for children, adolescents, pregnant and breastfeeding women. The Complex contains caffeine (15mg). Taking it outside of meals is not recommended.
PRO-SOOTHING Complex
INGREDIENTS: Green tea leafextract (Camellia sinensis) with 40%polyphenols, L-arginine, Vitamin C, Plant-based capsule shell, Turmeric rootextract (Curcuma longa) with 95%curcuminoids, Bromelain powder (pineapple extract), Chamomile Nower extract (Matricaria recutita) with 2% apigenin,zinc citrate, L-Gasseri, 45% natural vitamin E.
COLLAGENE & HA Booster
INGREDIENTS: Sodium hyaluronate; hydrolyzed collagen (fish); capsule shell: hydroxypropylmethylcellulose.
Core assets
Turmeric root
Anti-inflammatory action and soothing properties, helps keep the skin healthy.
Chamomile
Relieves the skin of the sensations of heat caused by inflammation and reduces redness.
Green tea
Have remarkable antioxidant properties.
Marine collagen
Essential component of subcutaneous support tissue. Without this supporting fabric, the skin loses its firmness and elasticity.
Hyaluronic acid
Its molecules are able to retain up to 100 times their weight in water. The skin thus retains all its density and firmness.