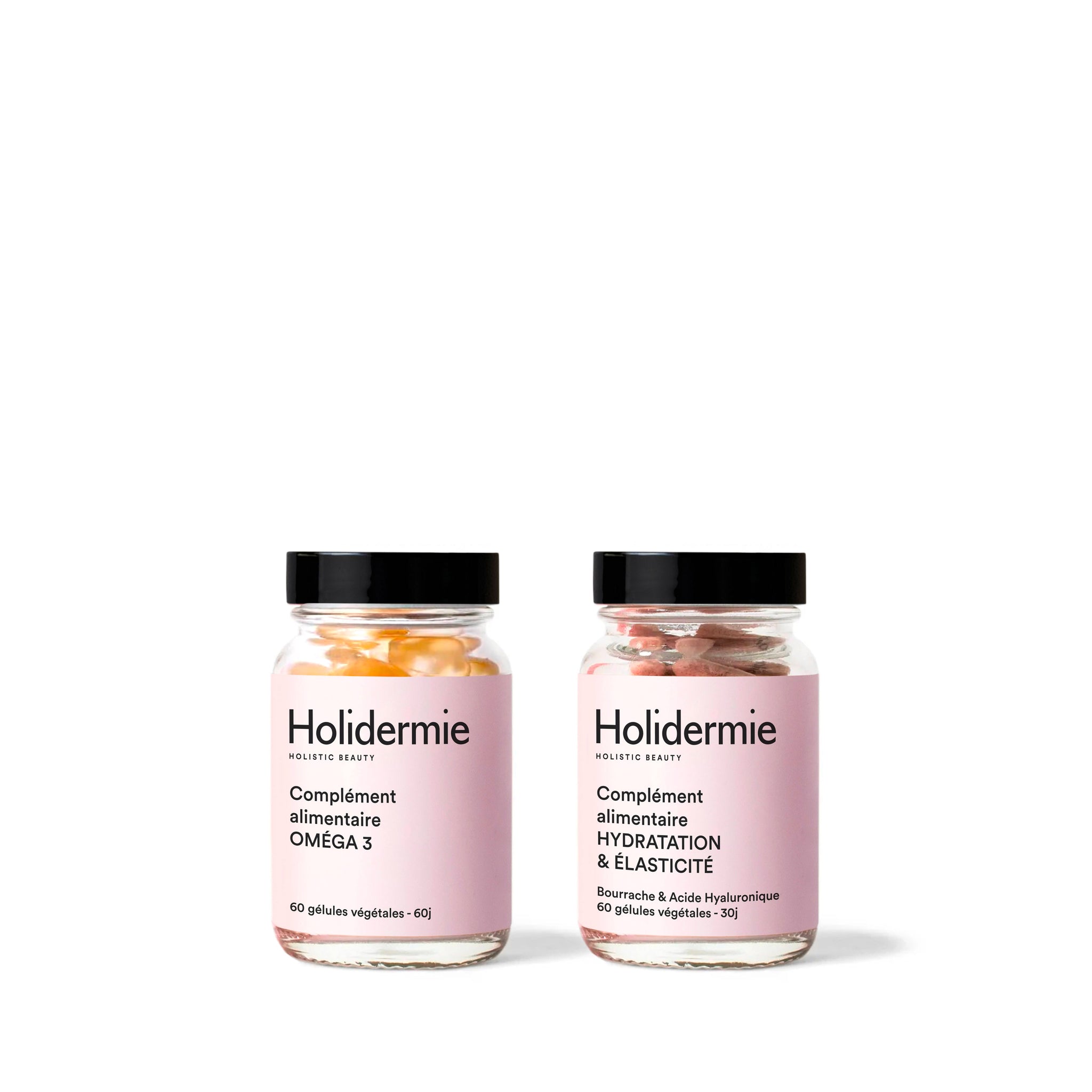 Duo HYDRATION & ELASTICITY
HYDRATION & ELASTICITY
"Hydration &Elasticity"
Double action nutritional synergy Complex + Booster:
1/ Contributes to an optimal hydrolipidic balance and avoids the evaporation of the water retained on the surface of the epidermis
2/ Reduces inflammatory states and bring elasticity & suppleness to the skin.
Evening Primrose and Borage Oil + Hyaluronic Acid +DHA* + EPA
***Docosahexaenoic acid
**Eicosapentaenoic acid
- Ideal hydrolipidic balance (fat/water)
- Maintains hydration, elasticity, and suppleness of the skin
- Antioxidation & flora balance
- Balances inflammation and sensitivity
More information on the PRO-HYDRATING Complex
More information on the OMEGA-3 Booster
Instructions for use:
2 capsules per day of your Complex combined with 1 capsule per day of Booster, ideally in the morning, at breakfast time.
Recommended duration of use:
Minimum 30 days and ideally 3 months for visible effects. Do not exceed the recommended daily dose. Food supplements cannot be used as a substitute for a varied and balanced diet and a healthy lifestyle. Keep out of reach of young children. Food supplement based on plant preparations, vitamins, minerals, and lactic ferments and substances.
Precautions for use:
Pregnant and breastfeeding women should consult a healthcare professional before any supplementation. Not recommended for children and adolescents.
PRO-HYDRATING Complex
INGREDIENTS: Sodium hyaluronate; Evening primrose seed oil (Oenothera biennis L.); capsule shell: hydroxypropyl methylcellulose; Borage seed oil (Borago ocinalis L.);zinc citrate; D-alpha tocopheryl acetate (vitamin E); grape seed extract (Vitisvinifera L.) titrated to 95% OPC*; dry extract of Landes pine bark (Pinuspinaster) with 95% OPC*; lactic ferments: Bifidobacterium infantis,Lactobacillus casei, Lactococcus lactis subsp lactis, Lactobacillusacidophilus, Bifidobacterium bidum, Bifidobacterium longum, Lactobacillusplantarum, Lactobacillus rhamnosus; reduced glutathione; selenomethionine;copper gluconate.
*OPC:oligo-proanthocyanidins
OMEGA-3 Booster
INGREDIENTS: Oil extracted fromthe microalga Schizochytrium sp., modified starch, gelling agent:carrageenan (E407), firming agent: glycerol (E422), vegetable oils,antioxidants: extract rich in tocopherols (E306), ascorbyl palmitate (E304(i)), acidity regulator: sodium carbonate (E500 (i)).
Core assets
Hyaluronic acid
Powerful anti-aging ally that helps maintain skin hydration, thus retaining all of its density and firmness.
Evening Primrose and Borage Oils
Provide a cocktail of biologically active and assimilable Omega 3 and 6 by the body ; they contribute to maintaining the elasticity and hydration of the skin.
Omega 3s
Help maintain the elasticity and hydration of the skin and are essential for fighting inflammation.