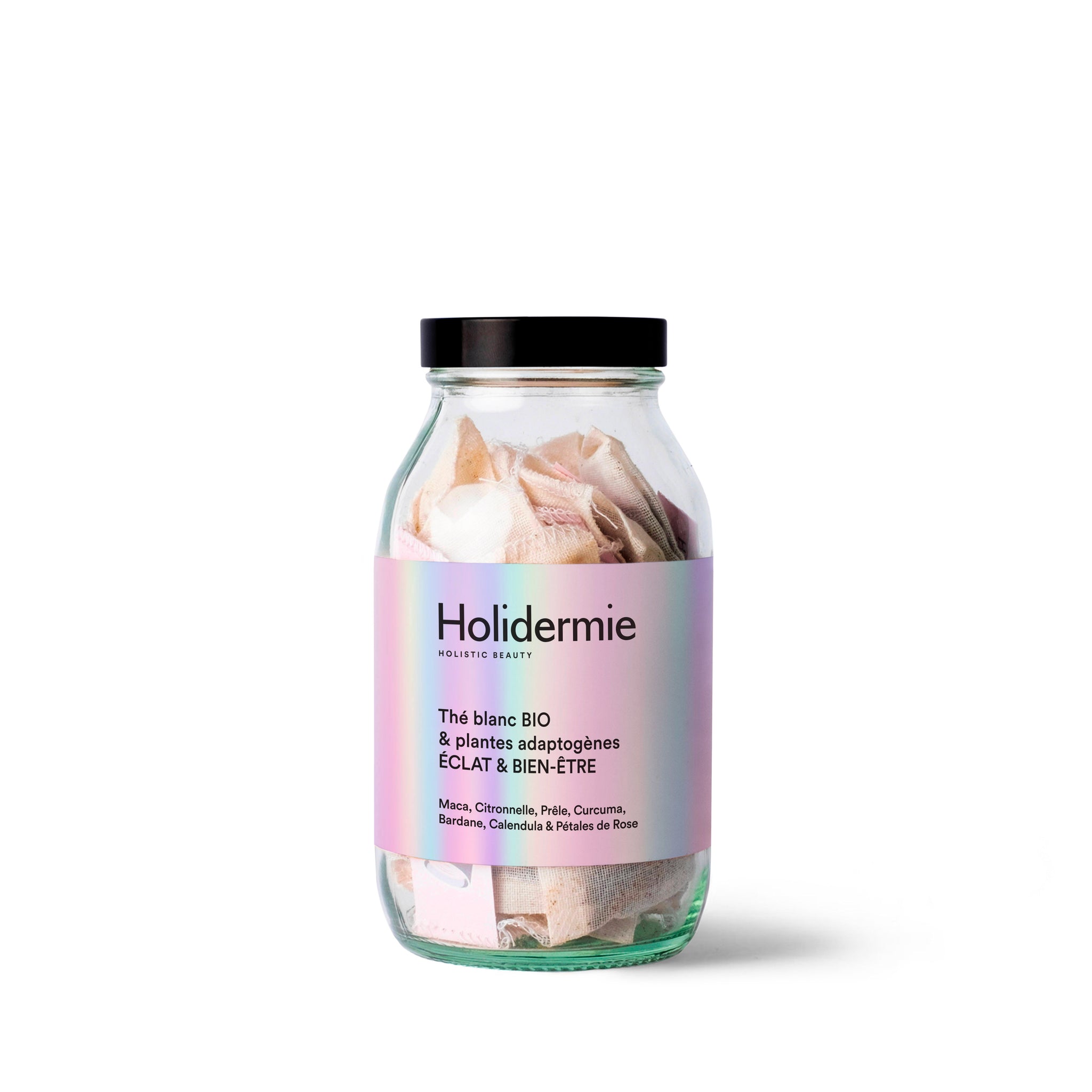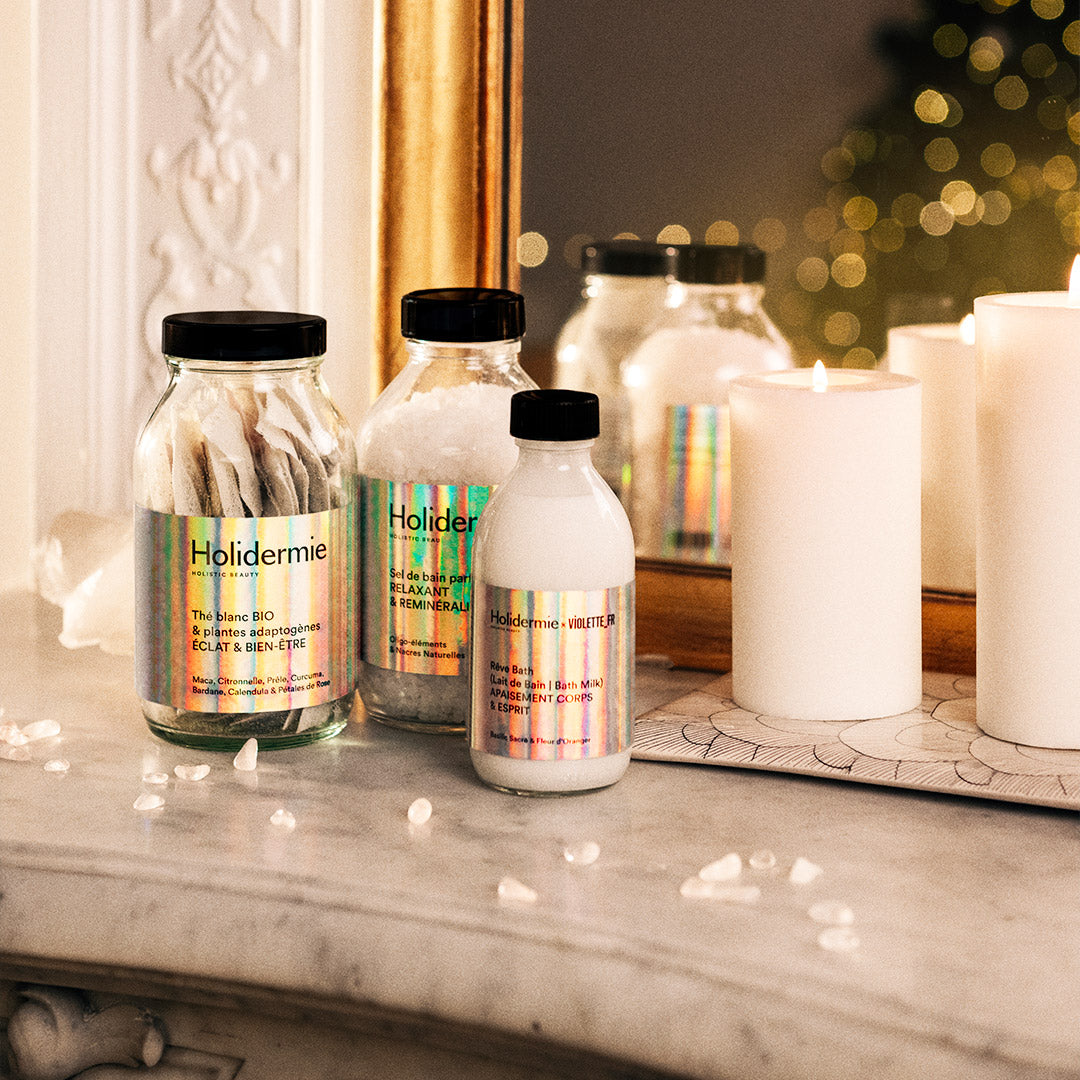 Organic white tea & adaptogenic plants - Christmas
RADIANCE & WELL-BEING
Christmas limited edition
✔️ Vegan
✔️ Cruelty free
🌱 Yuka rating: 100/100 - Excellent
Organic White Tea & Adaptogenic Plants contains plant extracts known for their effects on complexion radiance and overall well-being. Rich in ingredients with depurative, antioxidant and soothing properties, its active ingredients promote the elimination of toxins from the body, helping to preserve its balance. Maca, an adaptogenic plant, is renowned for its positive action on mood and promotes better mental and physical performance.
✔️ Made from 99% organically grown plants.
*The packaging of our products is currently being changed, and may differ from the one pictured.
1 sachet per day (30 sachets)
Steep for 3 to 4 minutes in mineral or filtered water.
Ideal water temperature: 80°C
Discover our recipe for Iced Tea ideal for this summer
The
White tea
is the rarest and least processed tea. Unlike green tea, it is neither roasted nor rolled, which preserves much more of the properties of the fresh tea leaves. It contains powerful antioxidants such as gallic acid and tea-specific polyphenols (theaflavins and thearubigins), catechins and flavonoids capable of reducing oxidative stress, as well as amino acids, the building blocks of proteins such as collagen. It is also energizing thanks to its theine content.
The Maca, the sacred mountain plant of the Incas and Indians, was originally reserved for elites and soldiers to strengthen their physical capacities in battle. Traditionally known for its energizing effect, women also use it to combat the negative effects of menopause. It is a so-called "adaptogen" plant, meaning that it helps the body to combat all forms of stress. Rich in various active ingredients, as well as vitamins and antioxidants, Maca is used for its effects on the nervous system and physical capacities.
The Lemongrass or "Indian verbena" is a frequent component of Far Eastern culinary recipes, with its fleshy bulb. But it's the leaves that offer therapeutic virtues, with anti-inflammatory and diuretic properties for eliminating toxins. It also contributes to digestive well-being, and is particularly indicated against fatigue, stress and anxiety.
The Horsetail remineralizing thanks to its silica content, helps combat the formation of free radicals, promotes relaxation and contributes to good nervous balance. It increases the synthesis of collagen and elastin fibers in connective support tissue.
The Turmeric has antioxidant, anti-inflammatory, antiviral and antibacterial properties, which are very useful for boosting the immune system. It also contains curcuminoids, which have soothing and protective properties.
The Burdock root helps the body eliminate toxins. Traditionally used to soothe skin irritations, burdock is used in phytotherapy for its anti-inflammatory and diuretic properties, stimulating liver and bile functions, and protecting the liver, thanks to its inulin content. It stimulates the body's natural purification mechanism, helping to eliminate toxins and purify the blood.
Calendula flower ( Calendula, ) is renowned for its soothing and healing properties. It is rich in carotenoids, which act as antioxidants to promote healthy skin, aid natural collagen production and preserve the skin's youthful appearance.
The Rose Petals stimulate the growth of keratinocytes, the cells that help renew the epidermis and repair damaged areas. They act on pigmentation spots and brighten the complexion.
Core assets
Le Thé blanc est le thé le plus rare et le moins transformé. Il est énergisant grâce à sa teneur en théine et contient de puissants antioxydants.
La Maca est une plante dite « adaptogène » qui aide l'organisme à lutter contre toutes les formes de stress.
La Citronnelle participe au bien-être digestif et est particulièrement indiquée contre les états de fatigue, de stress et d'anxiété.